Finite Element Analysis (FEA)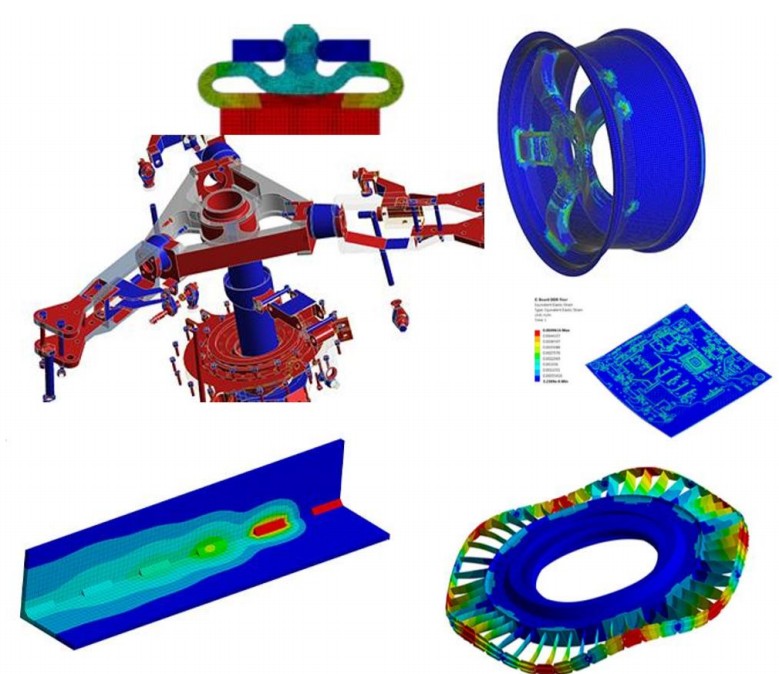 Ansys offers a comprehensive suite of finite element analysis (FEA) simulation software products that allow you to determine a structures response to any type of loading you can imagine. Whether you are a design engineer or an analyst, Ansys has a product that will provide you with unparalleled structural analysis capabilities. Whatever conditions and loads your structure needs to survive in, Ansys' structural solutions can give you valuable insight into your product's performance.
Ansys' structural solutions are fully integrated into the Ansys Workbench platform. This environment delivers high productivity and easy-to-use workflows. Workbench integrates all your fluid workflow needs (pre-processing, simulation, and post-processing) into one easy to use interface. In Workbench, you also gain the ability to perform automated design optimization studies to make your designs even better.
As always, feel free to contact us at anytime if you would like assistance in determining the right product for you! Below is some additional information about each of the products and capabilities of the software
Ansys Structural Brochure
Ansys 2020 R1 Capabilities Chart
Capabilities
Strength Analysis
Vibration
Thermal Analysis
Durability
Rigid Body Dynamics
Hydrodynamics
Composites
Impact
Optimization
HPC for FEA
Topology Optimization
Additive Manufacturing
Ansys Structural Products
Ansys Mechanical Enterprise is a finite element analysis (FEA) software tool that provides in-depth analyses of structural and coupled-field behavior in a highly productive environment for optimal engineering.
Ansys Mechanical Premium is an FEA tool that gives you greater engineering insight with advanced nonlinear stress simulations and comprehensive linear dynamics.
Ansys Mechanical Pro is FEA software that provides ​robust general purpose stress, thermal, vibration and fatigue simulations for fast and accurate solutions.
ACT
Ansys ACT helps you to customize the many powerful tools in Ansys Workbench to precisely fit your processes and needs.
Autodyn
Ansys CFD Professional enables engineers doing occasional CFD simulation to predict the flow and thermal behavior of their designs.
DesignSpace
Ansys DesignSpace software is an easy-to-use simulation package that provides you with tools to conceptualize, design and validate your ideas right on the desktop using the same solver technology as Ansys Mechanical.
LS-DYNA
Ansys LS-DYNA simulates the response of materials to short duration severe loading. It is the most commonly used explicit simulation program, best suited for the experienced and highly technical user.
nCode DesignLife
Ansys nCode DesignLife is an extension of Ansys Mechanical for the evaluation of fatigue life.
AQWA
Ansys Aqwa addresses the analysis requirements associated with hydrodynamic assessment of offshore and marine structures.