Computational Fluid Dynamics (CFD)
Ansys offers a comprehensive suite of computational fluid dynamics (CFD) simulation software products that allow you to determine the impact of fluid flows on your product. Whether you are a design engineer or an analyst, Ansys has a product that will provide you with unparalleled fluid flow analysis capabilities. Whatever fluid flow phenomena you are studying, Ansys' fluid dynamics solutions can give you valuable insight into your product's performance.
Ansys fluid dynamics solutions are fully integrated into the Ansys Workbench platform. This environment delivers high productivity and easy-to-use workflows. Workbench integrates all your fluid workflow needs (pre-processing, simulation, and post-processing) as well as multiphysics functionality (fluid–structure interaction (FSI), electromagnetic/fluid coupling, etc.) into one easy to use interface. Additionally, via Workbench, you gain the ability to perform automated design optimization studies.
As always, feel free to contact us at anytime if you would like assistance in determining the right product for you! Below is some additional information about each of the products and capabilities of the software.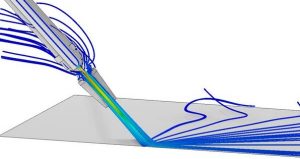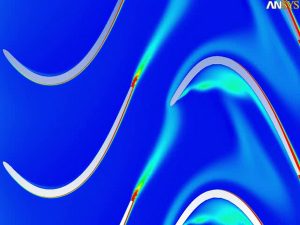 Applications
Cavitation
Fluid-Structure Interaction
High Rheology Material
HPC-Fluids
Multiphase Flows
Reacting Flows and Combustion
Shape Optimization
Simulating Aircraft Icing
Single Phase, Non Reaction Flows
Thermal Management
Turbomachinery
Turbulence Modeling
Ansys Fluid Products
CFD Enterprise
If you desire all the computational fluid dynamic (CFD) solvers that Ansys has to offer, the CFD Enterprise software is right for you. CFD Enterprise offers full versions of Ansys Fluent, AIM Pro, and CFX, Ansys Polyflow, Ansys Forte, and Ansys FENSAP-ICE.
CFD Premium
Ansys CFD Premium includes full versions of Fluent and Ansys CFD, to provide fast results with industry leading accuracy and robustness.
AIM
Ansys AIM Pro combines CFD and the breadth of Ansys physics in a single, easy-to-use environment.
Fluent
One of Ansys' most powerful computational fluid dynamics tool. Fluent delivers fast and accurate results across a wide range of CFD and multiphysics applications.
CFX
Ansys CFX is a high-performance computational fluid dynamics tool that delivers reliable and accurate solutions for a wide range of CFD and multiphysics applications. CFX also is the leader in simulating rotating machinery.
Polyflow
Ansys Polyflow provides advanced fluid dynamics technology for companies in the polymer, glass, metals and cement processing industries.
Chemkin-Pro
Ansys Chemkin-Pro is the gold standard for modeling and simulating complex gas phase and surface chemistry reactions for fast, accurate development of combustion systems.
Model Fuel Library
The Model Fuel Library (MFL) includes detailed and validated reaction mechanisms for over 65 fuel components used to create the most accurate combustion simulations.
Forte
Ansys Forte accurately simulates IC engine combustion performance with nearly any fuel, helping you rapidly design cleaner burning, high-efficiency, fuel-flexible engines.
VistaTF
Ansys Vista TF complements rotating machinery simulation by enabling engineers to quickly develop blade geometries that achieve desired performance objectives.
BladeModeler
Ansys BladeModeler complements rotating machinery simulation with a specialized, easy-to-use tool for the rapid 3D design of rotating machinery components.
TurboGrid
Ansys TurboGrid software complements rotating machinery simulation by creating high-quality meshes designed for the demands of fluid dynamics analysis.
FENSAP-ICE
FENSAP-ICE is the premier in-flight icing simulation system, used worldwide by major aerospace companies. Its innovative, graphical environment provides intuitive file management and makes it easy to interact between simulation modules.
FENSAP-ICE Turbo
FENSAP-ICE-TURBO does what no other system can — its unique, integrated interface enables you to analyze aero grids and icing simultaneously. With it, you can analyze the external flow and icing over the aircraft, with engines installed and running.