Material Intelligence with Ansys Granta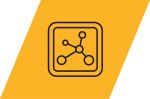 Every product is made from materials. Managers, engineers, scientists and designers need to base decisions and analysis on the right information about those materials. And enterprises need to build and manage "material intelligence" as a key component of their digital transformation strategies. The Ansys Granta product range can help.
Hear from Ansys Granta customer Rolls-Royce Aerospace
GRANTA MI Enterprise
Apply the leading system for materials information management to develop and protect your organization's materials IP. Save time, drive innovation, cut costs and eliminate risk.
GRANTA MI Pro
For teams with a more focused need, GRANTA MI Pro is a quick-start materials database system for sharing key in-house data and accessing valuable reference data for use in CAD and CAE.
GRANTA Selector
The industry-standard tool for materials selection and graphical analysis of materials properties. It includes a comprehensive library of materials data on your PC plus unique tools to help you apply it.
GRANTA EduPack
This unique set of teaching resources supports materials education across engineering, design, science and sustainable development. Join an active worldwide community of educators.
Support for Other Ansys Products
GRANTA Materials Data for Simulation
For users of Ansys Mechanical or Ansys Electronics Desktop, a new license option enables you to access and use valuable materials data from Ansys Granta within your existing tools.